Nourishing the art-making
Since 2007, Des mots d'la dynamite has settled into the very early childhood sector. The company's works intended for this age group, were all developed through partnerships with disseminators and with child care centres (CPE). We sincerely believe that the children we meet during workshops are the co-authors of our shows. They are, in a sense, our mentors!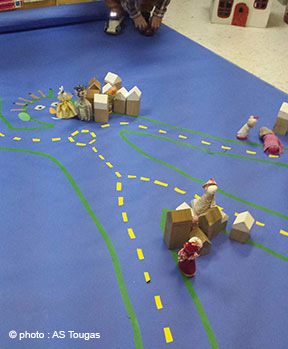 2016-2017 | Weaving with Material and Senses
Daycare workshops
For ten years now, Des mots d'la dynamite has worked in close collaboration with the daycare sector, and this, for different stages of the creative process. Direct contact with the very little ones nourishes the artists' work and practice. With the Weaving with Material and Senses project the company offers a series of workshops inspired from the three productions in its repertoire dedicated to very early childhood (Scenes from a Tree, Where I Live and Slow Magic). The pilot project has been welcomed by the Autour du Monde CPE and addresses all age groups. Each encounter begins with the presentation of an excerpt from one of the shows (adapted to the age group and location) and includes an activity inviting the little ones to play, experiment and create based on what was just presented, with the materials and art forms used. The project will end with an interdisciplinary party called The Alley of Little Secrets, where a dozen artists from different disciplines (most of them emerging artists) will present, a performance, an installation or a short animated film to the children from several neighbourhood daycares, at the Salle de diffusion Parc-Extension. Project coordination has been entrusted to Anne-Sophie Tougas, a young artist whom the company has been mentoring since 2015 and who is leading several cultural mediation projects.
To learn more about this project
Weaving with Material and Senses is the first phase of a project financed by the City Of Montreal's Service de la culture, in collaboration with the Villeray–Saint-Michel–Parc-Extension Maison de la Culture's Hors les murs program.

2016 | Cultural mediation and artistic residency in school environments
On the cusp of the making of the Slow Magic show, visits to a daycare and a primary school shaped the contours of this unborn show. From October 2015 to January 2016, we met two to two and a half year-old children, at the Autour du Monde CPE, every week. Our series of visits ended with the presentation of a workshop performance, concluding our residency at the Salle de diffusion Parc-Extension, one of the CPE's neighbours. A first stage of the work was completed.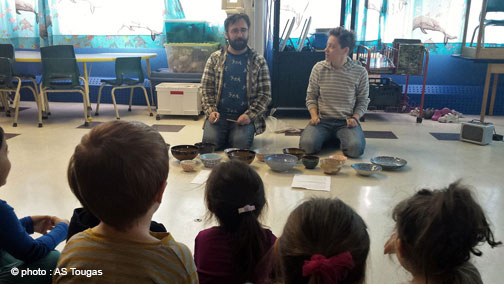 Three first grade classes at the Barthélemy-Vimont school received us from January to May 2016 and allowed us to pursue our experimentations through participatory activities. This residency in a school environment gave us the opportunity to come into dialogue with slightly older children who had mastered speech and French. Through play, we asked them to help us to write a show for their little brothers and sisters. The experience was fascinating as far as the neighbourhood bringing together families from different cultural communities: India, Bangladesh, Pakistan, Turkey, Middle East, etc. Complicity was quickly developed. Pleasure and fertile dialogue were had. In May 2106, our precious collaborators were welcomed to the Maison Théâtre for the dress rehearsal of the Slow Magic show, which also welcome its first little audience members.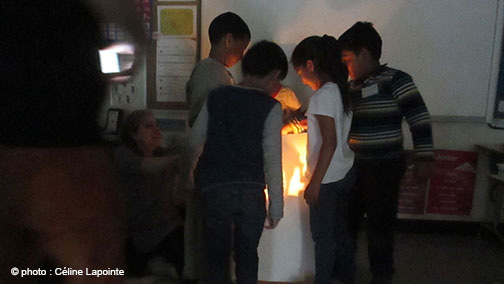 This mediation project benefitted from funding from the Programme Libres comme l'art, realized in partnership with the Ministère de l'Éducation, du Loisir et du Sport through its program Une école montréalaise pour tous.